TGIF Tweens Ministry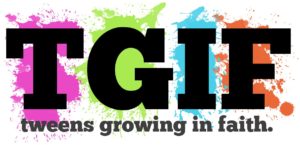 TGIF – You're Not a Kid, You're Not a Teen – You're a Tween!
Tweens Growing In Faith is a fun and relevant ministry for Tweens ages 10-12.
TGIF students learn about the Bible and how to live a Christian life
before they take those first steps into the teen years.
More than half of the world's Christians come to
faith in Christ before the age of 12.
A firm foundation, loving instructors, games, discussions, and examples
that connect the Bible with life lessons – that's TGIF!
Check us out on Facebook!

(For your child's safety, this is a private page. You will be asked to sign in to Facebook to view it.)
During the month of August, our TGIF group will be studying
HOW TO BE AWESOME!
In this 4-week series, your tween will discuss the importance of choosing the narrow road by making wise decisions,
learn how to follow the guide of the Holy Spirit, explore the importance of not walking alone
and accept the challenge of inviting others to join them as they journey through this awesome God-life!