Staff & Ministry Leaders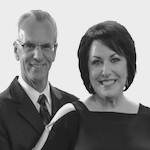 Steve and Becky Smith, Lead Pastors
At the age of 17, Pastor Steve had a life-changing encounter with God that went something like this…'God, if You are real and if You are who they say You are, then do something with me'. From that point on his life was transformed. After serving as Associate Pastor for 12 years and Senior Pastor for 9 years in Gretna, LA, Hurricane Katrina hit the Gulf Coast region and changed everything in South Louisiana. In Katrina's aftermath, with a destroyed church and scattered congregation, Pastor Steve and Becky purchased the current facility, renovated it and started WestPoint Church in November 2006.
Becky Smith serves along with her husband at WPC as Director of Ministries. She comes from a rich Christian heritage, being a 3rd generation pastor's wife. Her passion is seeing God's Kingdom grow, His church built and His people growing in grace.
Pastor Steve and Becky have three married children and five grandchildren.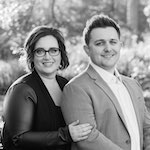 Staff Pastors Jared Duhon, Youth Pastor and Victoria Duhon, Family Life Pastor
Jared and Victoria Duhon have been involved in ministry for many years. Being raised in Christian homes, both have a strong biblical foundation and love for the body of Christ. The Lord called them to serve at WestPoint Church in 2020 and they work together to strengthen the local church in any area they are needed.
As part of WestPoint's Pastoral Staff, Pastor Jared serves part-time as Youth Pastor, while also being a business owner. Pastor Victoria serves full-time as Family Life Pastor, overseeing the ministries of WP Babies, WP Pre-K, WP Kids, and together, with her husband, AMPLIFY Students and EMERGE Young Adults. Pastors Jared and Victoria desire for each young person to have confidence in who they are in Christ, in order for them to be a witness of the love of God to their generation. Pastors Jared and Victoria have three children.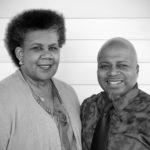 Kenneth and Tina Toussaint, Church Elders
Kenneth and Tina have been connected to ministry with Pastors Steve and Becky for many years. They were an integral part of the launching of WestPoint Church and are charter members since 2006. Passionate about the local church and specifically WestPoint, Kenneth and Tina train men and women to serve in the church in his or her area of giftedness. Known for their love for all, they also serve as Directors of the WestPoint Impressions Team (Ushers and Greeters). Both Kenneth and Tina gave their lives to Christ in 1994. They have three adult children, nine grandchildren and one great-grandchild.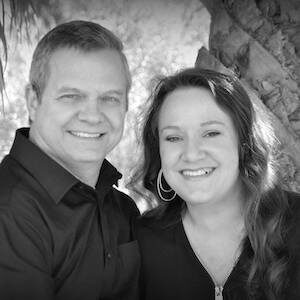 Heather Milhet, Administrative Assistant and Paul Milhet, Production
Paul and Heather Milhet have been attending WestPoint Church since its inception in 2006.
Heather is the Administrative Assistant at WestPoint Church. She gave her life to Christ in 2005, was baptized at WestPoint Church
in 2007, and continues to nurture her relationship with God.
Paul has extensive production experience through his work at a local news station for over 25 years and is currently the Chief News Editor for that station. He is excited to use his gifts in this field and his leadership skills for the good of the Kingdom through WestPoint. Paul and Heather are life-long residents of the Greater New Orleans area and they have two children.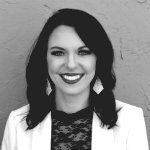 Stephanie Serrano, Worship Team
Stephanie Serrano has been serving at WestPoint Church since its inception in 2006. Having experienced the presence and call of
God on her life as a teen, she loves to see people experience God in a real way. Stephanie is passionate about showing people the power of God's presence through music. Along with her ministry at WPC, Stephanie works as a grade school teacher. She is married to Eric Serrano, who serves on the WestPoint Worship Team and they have two children.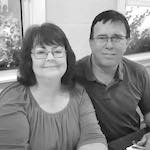 Glenn and Yvonne Guidroz, Senior Stars Ministry
Glenn and Yvonne Guidroz are the Leaders of the Senior Stars Ministry at WestPoint. Senior Stars meets on the last Friday of each month
at 11 AM in WestPoint Hall. If you consider yourself a senior citizen, you belong in Senior Stars! Both Glenn and Yvonne have been walking with the Lord for over 50 years and have a passion for God and His Word. Glenn has served seniors in the community for many years through his work in rest homes and assisted living centers. Yvonne has a heart of love and compassion for members of the deaf community and has a background and schooling in Deaf Culture, where she learned to communicate with the hearing impaired through sign language. Glenn and Yvonne have 2 adult children and 1 grandson.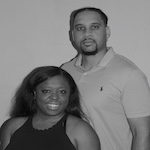 Tremaine and Charis Lombard, WP Kids Ministry
Tremaine and Charis Lombard are the Leaders of WP Kids Ministry. They have been attending WestPoint Church with their two children since 2011. Even as a child, Tremaine felt a connection to God, but began developing his relationship with Him after attending WestPoint Church. Charis was raised in church with parents who were faithful servants of God. She made her own connection with God and began developing her relationship with Him as a teenager. Tremaine and Charis serve God wholeheartedly and love seeing the kids' relationships with God develop and thrive! In addition to being serving as leader of the WP Kids Ministry, Tremaine serves on the Impressions Team as an usher and is a teacher for the WestPoint Men's Ministry.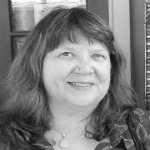 Alisa DeSoto, WP Pre-K Ministry
Alisa DeSoto is the Department Head for WestPoint Pre-K Ministry. With a love for everyone she meets and a heart of gold, Alisa has found her niche serving the WP Pre-K children. Alisa has a long career in nursing and works for Ochsner Hospital. She has one adult son and a large family surrounding her.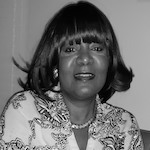 Ada Foster, WP Babies
Ada Foster is the TEAM Leader for WP Babies, our nursery for children ages 2 months to 2 1/2 years. Ada is a sweet soul and has a passion for children of all ages, but especially babies. You can always find Ada dancing and singing with the babies in the WestPoint nursery.
She loves Jesus and wants children to understand His love for them. Ada has been a member of WestPoint Church for over a decade.
She is married and has 3 children and 8 grandchildren.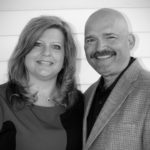 Albert Bladsacker, WP Men's Ministry and Jane Bladsacker, Real Women Ministry
Jane Bladsacker serves as the Real Women's Director at WestPoint Church. She grew up locally in a strong Christian home, and has been
following Jesus for many years. During her teen years, Jane answered a calling on her life. As a young married adult, Jane and her husband served in various types of church ministries. Her gift for teaching the Word of God is her passion and her call is to minister to God's precious women.
Albert serves as the Director of the WestPoint Men's Ministry. He works in conjunction with Pastor Steve to lead the EXPRESS Men's Bible study on Wednesday nights and coordinates various men's events including sports nights, fellowship events, fishing trips and more!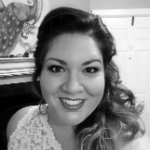 Emily Terrebonne, Director of Events
Emily Terrebone serves as the Director of Events at WestPoint Church. She keeps things happening, fun and exciting! Emily graduated from Baylor University with a degree in Forensic Science. She has a passion for making things beautiful and uses her creativity to serve her community as the manager of Westbank Florist. Emily is married and has 3 sons.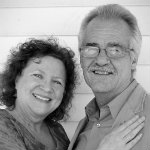 Tommy Coon, Food Outreach Ministry and Catherine Coon, Director of WestPoint Bible School
Tommy Coon serves as leader of the WestPoint Food Outreach ministry. Tommy utilizes the WPC food trailer to bring food to those in need in our community. He also travels with the trailer to areas in need of food during catastrophes.
Catherine Coon is the Director of WestPoint Bible School. WPBS is an at-your-own-pace Bible School that WestPoint offers completely free of charge! Students work through lesson booklets on various biblical topics. Catherine also serves as a teacher at WestPoint.
She has been a Bible study teacher for over 20 years, teaches both children and adults, and also serves as a back-up singer on the WestPoint Church Worship Team.
Tommy and Cathy have 5 children and 6 grandchildren.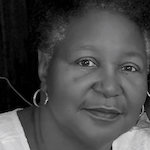 Debra Leonard, Next Steps Ministry & Prayer Altar
Debra Leonard is the Director of WestPoint's Next Steps Ministry, which helps to facilitate the Salvation Experience for new believers.
She also serves as the Leader for our Prayer Altar Team. As people respond to the call to receive Christ at WestPoint Church, Debra meets with them to pray and give guidance for the next steps in their new life in Christ. As part of Next Steps, Deborah encourages new believers to be baptized in water and the importance of having a prayer life. After being saved at an early age, Deb learned through studying God's Word that prayer was a vital part of being a Christ follower. She knows there is power in prayer and has personally witnessed numerous answered prayers. Debra has been a Christ follower for over 50 years and has one adult daughter.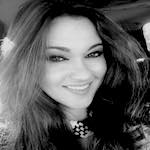 Yanetsy Capote, Guest Services
Yanetsy Capote serves as the leader of WestPoint's Guest Services area. Born in Cuba, Yanetsy grew up having to follow the Lord in secret for many years because of the strong dictatorship of the country. When she became a United States citizen, she was free to worship God and has been serving Him for over 30 years. Yanetsy is employed as an office manager at a local doctor's office and uses her friendly personality and organizational skills to the fullest as she serves the Lord through WestPoint Church. Yanetsy is married and has 2 adult children.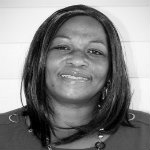 Belinda Henderson, We Care Ministries
Belinda Henderson has always had a strong passion for feeding the needy. After the deaths of her husband and son, the Lord spoke to her about feeding the homeless under the Interstate-10 overpass on Claiborne Avenue. He told her to make twelve bags of fruit and water and give them out to the homeless living there. Those twelve bags have turned into hundreds of people that We Care serves monthly,
as the Gretna distribution site for Second Harvest Food Bank. We Care Ministry gives out food and clothes and serves the westbank with this motto – All are welcome and no one is turned away. Belinda has been a member of WestPoint Church since 2007. She has 3 adult children and 2 grandchildren.